!
The IKEA kitchen waste removal service is available for IKEA customers only, proof of purchase required.
Official IKEA kitchen waste removal partner
Clearabee, the UK's largest on demand clearance company has partnered with IKEA to provide a discounted clearance service for waste generated by your new IKEA kitchen installation (kitchen units, packaging and appliances).
Fixed collection price from:
£149.99*
Terms and conditions apply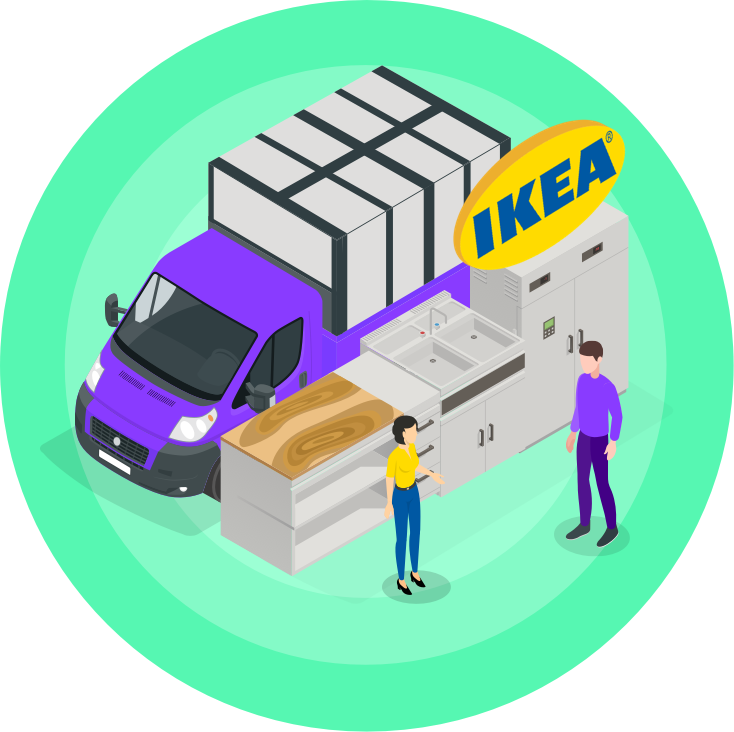 Lets book your IKEA kitchen waste collection
Select whether you are the customer who is booking the kitchen waste collection or whether you are an installer making the booking on behalf of the customer.
What's included?
Packaging waste (plastic wrapping and cardboard)

Kitchen waste (work surfaces, cupboards, drawers and parts)

In built appliances (cookers, dishwashers, microwaves)
What's not included?
The IKEA kitchen waste collection package includes waste generated from the removal of your old kitchen and the packaging from your old kitchen. It does not include general enabling waste such as bricks, rubble, tiles, plaster or flooring except in very small quantities (3-5 rubble sacks max).
Bricks
Plasterboard
Rubble
Tiles
Flooring
How it works
You must be an IKEA kitchen customer to benefit from this offer, which can be booked by you (the customer) or your installer. If your installer books the collection you will receive a payment link which will enable you to pay for the service. On the day of collection, we will send a team who will remove the waste from your old kitchen and the packaging waste from your new kitchen. When your waste arrives for recycling you will receive notification including your updated Waste Transfer Note.
If you have additional waste you need collecting you can book a follow up collection for £59.99 which is designed for packaging waste and other small, light waste. This can also be used if you have limited space.
Book and pay for your collection
As soon as you know when the waste will be ready please book a collection. To ensure you get the day you want please do this as soon as possible, which should be discussed with your fitter. Once your booking is paid for you will be able to change your collection day up until we are on the way to you by replying to your confirmation email or amending the booking online if you made an account with us. Remember if you need a fridge collecting you must add this when checking out as it is hazardous and does incur a surcharge to reflect the additional processing.
Preparing your waste for collection
Your fitter should ensure your waste is suitably prepared for us to collect. It can be left indoors but if it is you will need to be in to let us in and the collection slots are all day. We recommend waste is left outside so we can access it without disturbing you. Loose waste should be bagged wherever possible. We are only able to collect waste from your new kitchen or from the removal of your old kitchen, so please keep other waste separate if you are having other work done at the same time.
On the day of collection
When we are on our way to you, you will receive an SMS with a tracking link and an ETA which will include the vehicle registration. In some cases, you may receive a phone call instead with at least 30 minutes notice. We are not able to give out ETA's on the day, but we will let you know we are on the way. If you are not going to be in please ensure it is clear what we need to take, and waste is kept clear of items you are intending to keep. If we cannot access the waste or you are not in a wasted journey will be charged which will cost £59.99, with the balance refunded.
Once we have collected
Once we have collected your kitchen waste, we will take it away for recycling. Waste is transferred to a Commercial Waste Transfer Station or Materials Recycling Facility, where it will be recycled. Typically, from a kitchen installation 100% of the waste can be recycled. We have planted over 19,500 trees since 2018 in the UK, making the transportation carbon neutral.
Clearabee and the Environment
Carbon neutral and almost nothing goes to waste
19,674 trees planted since 2018 and two new forests have been created.
600+ local recycling locations set up so we can always recycle locally.
100+ locations resulting in the driving distance between jobs is extremely low.
1,886 tonnes of CO2 offset as a result of the two Clearabee forests.