4.9 out of 5 based on 26,473 reviews
Waste carrier's licence: CBDU61392
Free removal of your bulky WEEE
If you're a resident of the 5 North London boroughs listed, we'll remove your bulky and difficult-to-transport items.
or call us on 0330 088 1085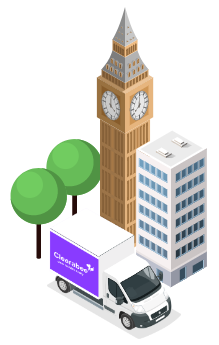 In partnership with



Only available to residents in the following boroughs
What we collect
We can remove any waste electrical items as long as they are difficult to handle or bulky. This means all white goods as well as heavy items like a sewing machine or bulky items such as a large vacuum cleaner. If the WEEE item can be easily moved, we ask you take it to a local bring back or Household Waste Recycling Centre.
Cooling appliances
- Refrigerator
- Freezers
- Water Coolers
- Air Conditioner Appliances
Fluorescent & Energy Saving Light Bulbs
- Straight Fluorescent Lamps
- Compact Fluorescent Lamps
- High Intensity Discharge Lamps
Large household appliances
- Washing Machines
- Clothes Dryers
- Dish Washing Machines
- Large Cooking Appliances
- Large Electric Stoves
- Large Electric Heaters And Radiators
- Large Electric Fans
- Exhaust Ventilation Equipment
Display equipment
- Cathode Ray Tube
- Plasma & LCD Televisions
- Screens And Computer Monitors
Please note the waste must be outside and accessible to our collection team.
What we cannot collect
We're only able to remove 'difficult to handle' and bulky WEEE - these are items which cannot be reasonably removed by an individual. This tends to include small electrical items as well as small appliances. If an item is unusually heavy, like a sewing machine, we can still help.
Small Household Appliances
- Machines
- Irons
- Toasters
- Fryers
- Coffee Machines
- Electric Can Openers
- Electric Knives
- Hair Dryers
- Electric Tooth Brushes
- Shavers
- Body Care Appliances
- Clocks & Watches
- Electronic Scales
- Food Processors
IT & Telecoms Equipment
- Computers
- Mice
- Keyboards
- Calculators
- Fax Machines
- Telephones
- Mobile Phones
- Answering Machines
- Games Consoles
Consumer Electronics
- Radios
- Video Cameras
- Video Recorders
- DVD Players & Recorders
- Hi-Fi Equipment
- Amplifiers
DIY Electric Tools
- Drills & Other Electric DIY Tools
- Small Gardening Equipment
Toys, Leisure & Sports Equipments
- Electronic Musical Instruments
- Toys Including Electric Trains Or Car Racing Sets
- Hand-Held Video Game Consoles
- Video Games
- Sports Equipment With Electric & Electronic Components
Monitoring Equipment
- Smoke Detectors
- Heating Regulators
- Thermostats
Portable Batteries
- All AAA And AA Cells
- Size C And D Batteries
- Button Batteries (E.G. Watch Or Hearing Aid Batteries)
- Mobile Phone Batteries
- Laptop Batteries
- Power Tool Batteries
- Rechargeable Batteries
Other
- Plates
- Small Electric Fans
- Small Electric Heaters
Please note the waste must be outside and accessible to our collection team.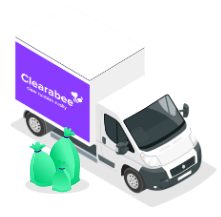 How we collect
Once you book in the collection, we'll confirm the day of removal. Please remember the waste must be outside and accessible on the day of collection. We've got some FAQs below if you have any more questions, or feel free to contact us.
Waste must be outside on the day of collection
FAQs
We can remove multiple WEEE items as long as they have been booked in and they all fall within the 'difficult to handle' category.
The WEEE items must be accessible on the day of collection. This means we must be able to get to them without access needing to be granted. Please give us clear instructions how we access them at the time of booking and please leave them in a responsible place.
This service is only for difficult to handle WEEE from outside the home. Our service is designed for people who can't transport the WEEE themselves, but can get it outside. If you need help from inside the home you'll need to speak with your local council direct or book in a private collector.
This service is delivered by Clearabee in partnership with ERP onbehalf of the North London Waste Authority. We cannot take away any extra waste or non-WEEE on the day of collection. If you do need a private collector, you can certainly call us, but this would be collected for a charge by a different team.
Hackney and Haringey boroughs are no longer part of the Free WEEE Kerbside scheme. Residents of Hackney and Haringey requiring a collection of large and bulky electrical items should contact their local council.
No, the Free WEEE Kerbside Service is only available for domestic users of the service who are residents of Barnet, Camden, Enfield, Islington and Waltham Forest. If you are business looking for a collection, please visit our standard removals page.